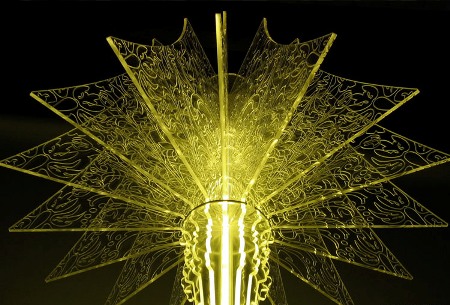 Lamps are supposed to light your mood if you are in depression. Their magical radiation can add life to your ambience making you feel high in spirits. Days back, when I introduced you to Therese Chandelier's, and fall of the damp lampshades, today there is something extraordinary in the store.
Made from 16 transparent curves enlightened by a shady fluorescent bulb, this floor lamp offers a contemporary recreation of the conventional ambient lamp. Through the use of special materials and accurate CNC milling techniques, not only the hood section, but the whole body of this fixture emits a magic light.
Together with tablelamp "Marie-Louise" and chandeliers "Therese" and "Therese XL" this sophisticated design is part of a series of unique lighting fixtures, which are guaranteed eye catchers in any interior.
Material: acrylic, polycarbonate.
Designer: Sander Mulder & Dave Keune, Buro Vormkrijgers.
Measurement: 1490 mm (H) X 610 mm (W)
Price: $2,845 (2019 Euro)